I hope you are all having a Happy Monday. George and I are recovering from a whirlwind cold. On Saturday night at 10:00 I was rehearsing for a solo I was supposed to sing yesterday at church. I felt a little tired and went right to sleep. At 7:00 am I woke up with a high fever, I actually thought I was having night sweats during the night. But George had the same fever, we had very sore throats and major coughs. I don't think I have ever gotten so sick, so fast. Very weird. Anyway, today I am supposed to meet my new client who wants me to make some curtains and pillows for her home. I am trying to look human before she gets here and praying she doesn't want them finished by tomorrow.(lol) I don't think I have enough energy to do too much sewing today.
I do have enough energy to cruise the sewing blogs and see all the creative things everyone makes. Speaking of that I have some projects posted at Skip to My Lou's linking party. You can find it here.
Oh...I am here too.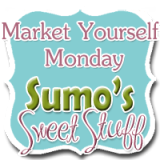 Happy Sewing Friends!!
Susan