I made this birdhouse at Easter to use as a centerpiece for our table. I plan on making a Christmas themed one and a black and white one for my daughter's room. The fabric choices and themes are endless.
I hope you enjoy this tutorial.
I used a yo yo and two buttons to decorate.
Enjoy~
I'm linked to.....

http://delightfulorder.blogspot.com/2011/07/delightfully-inspiring-thursday-party.html
http://www.ladybirdln.com/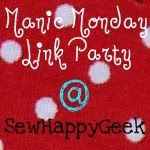 Happy Sewing!!
Susan